Guidelines miss breast cancer patients who could benefit from genetic testing: Part 2
The field of genetic testing is evolving rapidly as technology improves, cost decreases, and guidelines for selecting candidates for testing expand to meet clinical demand. Whether for surgical guidance, diagnosis, or preventive measures, patient access to genetic testing for hereditary breast cancer is often restricted by clinical guidelines. These guidelines are continually evolving—just not fast enough, according to a recent study.
Research published by the TME Breast Care Network in collaboration with Invitae suggests that almost half of pathogenic or likely pathogenic (P/LP) variants in patients may be missed if clinicians follow today's testing criteria guidelines to identify patients at increased risk.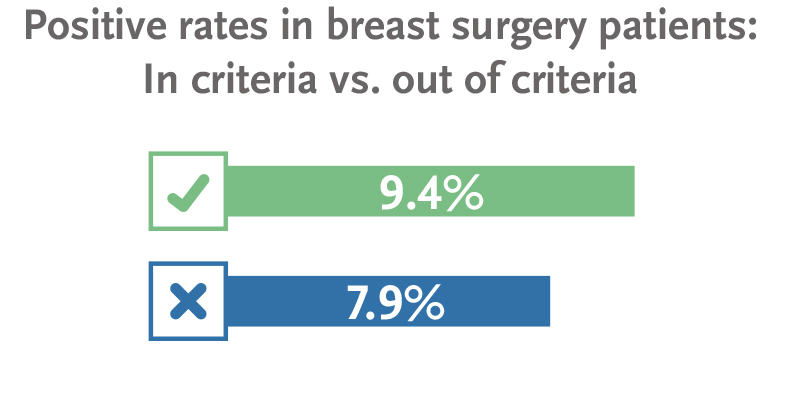 The data, published in the Journal of Clinical Oncology and presented at both the San Antonio Breast Cancer Symposium (SABCS) in December 2018 and the American Society of Breast Surgeons (ASBS) annual meeting in May 2018, indicated that patients who met clinical testing criteria had similar rates of P/LP variants (9.4%) as patients who did not meet criteria (7.9%). The study analyzed the results of 1,000 patients tested with an expanded 80-gene panel.*
The results of the study indicate that using current criteria to identify patients in need of testing may substantially limit the identification of medically actionable P/LP variants.
Based on these data, we believe that broadening testing criteria has the potential to capture more at-risk individuals and families. We hope that this new data, combined with our $250 patient-pay pricing, enables more patients who need testing to get it—whether or not they meet guidelines or coverage policies.

For more information
Read part 1 of this series, detailing a similar study published in July 2018 in the Annals of Surgical Oncology.

| | | |
| --- | --- | --- |
| | | |
*The study used
Invitae's Multi-Cancer Panel
, which analyzed 80 genes at the time the study was conducted. The Multi-Cancer Panel now analyzes 83 genes (
MSH3
,
NTHL1
, and
CTNNA1
were added after the study concluded).


About the study: The Universal Breast Cancer Genetic Testing Registry is a landmark clinical collaboration between TME Research and Invitae designed to evaluate the benefits of universal genetic testing of breast cancer patients. This IRB-approved multicenter prospective registry enrolled 1,000 breast cancer patients, 500 of who meet NCCN genetic testing criteria and 500 who do not, from TME's network of community and academic breast physicians experienced in cancer genetic testing and counseling. The goal of the study was to gather clinical and genetic information on every patient to better clarify the prevalence of gene alterations associated with breast cancer, the relationship of specific alterations with clinical presentation, and the impact of genetic information on clinical care and genetic counseling of the family.
Note: This blog post has been updated to reflect the publication of the

JCO

paper

.